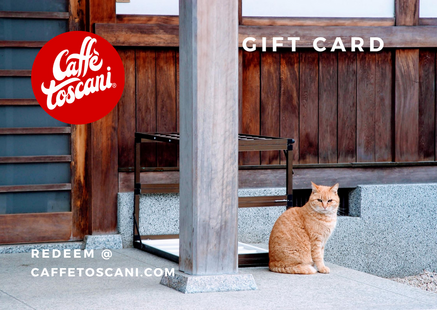 Caffè Toscani®, Gift Card
SKU GC001
Product Details
Digital GIFT CARD by Caffè Toscani
Gift card can be redeemed at Caffè Toscani's online shop caffetoscani.com
You can't reload a Gift Card but of course you can buy a new one.
Gift Card balance will never expire and are never subject to additional fees.

You can check the GIFT CARD balance by clicking the URL link sent to your email after purchase.
After the purchase, you will receive an email with the gift card and instructions on how to use it.
Never provide any gift card numbers over the phone or in an email through unexpected phone calls or unsolicited emails.
The number one rule is that no legitimate business or government agency (IRS, FBI, police, etc.) will ask you to pay specifically with gift cards. Caffe Toscani's Gift Cards can only be used atcaffetoscani.com, so you should never be asked to pay a bill or fine with gift cards.
Save this product for later